Exploring Educational Technologies Used by Mthwakazi University Rural Satellite Campuses to Implement Distance Teacher Education Programmes
Keywords:
Educational technology, Mthwakazi university, Rurality, Satellite campuses, Teacher education
Abstract
The 21st century has seen a massive advent of technologies, arguably more than any other time in the history of humankind. Education systems worldwide have embraced emerging technologies to expedite their teaching and learning systems to stay abreast and relevant to the time. The study explored the types of educational technologies used by Mthwakazi University (MU) rural satellite campuses to implement distance teacher education programmes. An interpretive research paradigm was employed using a qualitative research approach and a case study design. Interviews were used to gather data from six purposively selected lecturers at MU rural satellite campuses. Data was analysed narratively under emerging themes. Findings concluded that lecturers at MU rural satellite campuses used limited educational technologies, mostly traditional paper and text, due to electricity and internet challenges and lecturers' lack of ICT skills and knowledge. The study recommended that MU rural satellite campuses should use flash drives, Compact Disks (CDs) and Digital Versatile/Video Disks (DVDs) to download Encarta, encyclopedia and updated information and upload it into computers for access by students, invest in alternative internet sources like dongles and wireless mobile networks like ECONET and MTN.
References
Bates, T. (2014). A short history of educational technology. CNIE Canadian Network for Innovation in education.
Burns, M. (2011). Distance Education for Teacher Training: Modes, Models, and Methods. Education Development Centre, Inc.
Buselic, M. (2012). Distance Learning: Concepts and contributions. Oeconomica Jadertina.
Department of Education. (2012). Curriculum and policy statement documents. Pretoria.
Chris, C. (2010). Transforming education through Technology. University of Notre Dame.
Clarin, A.S., & Baluyos, E.L. (2022). Challenges encountered in the implementation of online distance learning. EduLine: Journal of Education and Learning Innovation, 2(1), 33–46. https://doi.org/10.35877/454RI.eduline591.
Creswell, J.W. (2014). Qualitative research methods. Sage.
Creswell, J.W. (2015). Research design: Qualitative, quantitative and mixed approaches (2nd ed.). Thousand Oaks: SAGE.
Grinager, H. (2006). How educational technology leads to improved student achievement. Denver, Colo: National Conference of State Legislatures.
McMillan, J. H., & Schumacher, S. (2014). Research in education. New Jersey: Pearson Education.
Rastogi, S. (2013). Educational technology for effective teaching, Institute of Distance education, University of Swaziland.
Rist, R. & Hewer, S. (1999). Implementing learning technology. In G. Stoner (Ed.) Learning technology dissemination initiative implementing learning technology. Heriot-Watt University.
Sadeghi, M. (2019). A shift from classroom to distance learning: Advantages and limitations. International Journal of Research in English Education, 4(1), 80-88. http://dx.doi.org/10.29252/ijree.4.1.80
Samsujjaman, M. M. (2017). Principle and significance of teacher education. International Journal of Engineering Development and Research, 5(2), 2321-9939.
Shelly, G.B., Gunter, A.G., & Gunter, R.E. (2010). Integrating technology and digital media in the classroom. Shelly Cashman Series.
Smirnova, (2008). Technology-enhanced teaching and learning for student and teacher success. University of San Francisco.
Tichapondwa, S.M. (2013). Preparing your dissertation at a distance: A research guide. Virtual University for small states of the Common Wealth.
Criollo-C, S., Guerrero-Arias, A., Jaramillo-Alcázar, Á., & Luján-Mora, S. (2021). Mobile learning technologies for education: Benefits and pending issues. Applied Sciences, 11(9), 4111.. https://doi.org/10.3390/app11094111
Wright, C. R. (2014). Five key barriers to educational technology adoption in the developing world. Educational technology debate. http://edutechdebate.org/2014-ict4edu-trends/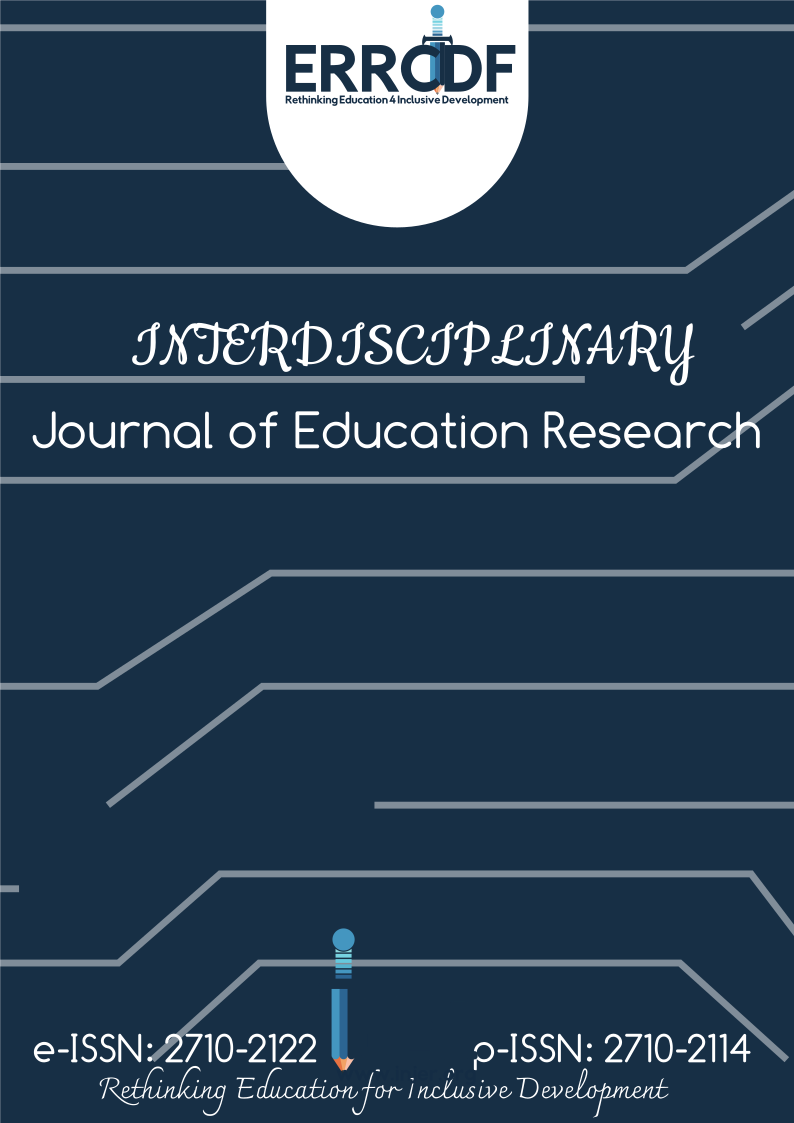 How to Cite
Madlela, B. . (2022). Exploring Educational Technologies Used by Mthwakazi University Rural Satellite Campuses to Implement Distance Teacher Education Programmes. Interdisciplinary Journal of Education Research, 4, 75-86. https://doi.org/10.51986/ijer-2022.vol4.06
Section
Education Research Articles
Copyright (c) 2022 Benkosi Madlela
This work is licensed under a Creative Commons Attribution-NonCommercial-NoDerivatives 4.0 International License.
The articles published by IJER are licensed under a Creative Commons Attribution-NonCommercial-NoDerivatives licence which permits non-commercial re-use of an open-access article, as long as the original author and source are properly attributed, and provided the article is not modified or altered.