Assessing Professors' Prestige, Reasons behind Declining Dignity: A Special Review of Nepalese Context
Keywords:
Professors, Dignity, Politics, Research, Knowledge
Abstract
Across the globe, a professor is not only an academically alluring position but also one of the most vital and valuable statuses that the government, as well as other professional societies of respective countries, pay with unparalleled dignity and prestige. However, the situation of professors in Nepal has gone haywire, setting a noticeably regressive and defaming decline compared to the other countries of the world. This paper tries to thoroughly assess the situation of decaying dignity of the professors in Nepal. Besides, it tries to unearth those substantial causes that have obstructed professors from upholding the expected dignity of position as earned by the professors in other countries. As an inference, this study has found that the dignity of professors in Nepal is at a constantly declining state and deplorable downward trajectory. An apparent erosion in academic integrity and honesty, zero research engagement, fewer professors and more political fellows, followed by excess politicisation in universities, has degraded the system. Thus, they should be completely barred from political engagement. Making quality research works compulsory and refraining universities from political intervention and experiment is a must. Finally, this paper argues that reviving authentic academic culture might assist in repairing the decay of professorial dignity.
References
Addink, H. (2019). Good governance concept and context (1st ed). Oxford University Press.
Allen, S. G. (2005). The value of phased retirement, recruitment, retention, and retirement in higher education: Building and managing the faculty of the future. Edward Elgar Publishing.
Allen, S. G., Clark R.L. & Ghent L.S. (2004). Phasing into Retirement", Industrial & Labor Relations Review, 58(1), 112-127.
Anderson, L. A. (2002). The new professoriate: Characteristics, contributions, and compensation. Washington, DC: American Council on Education.
Arnhof, Marlies. (2016). Design of a Human settlement on Mars using In-Situ resources. Paper presented at the 46th International Conference on Environmental Systems ICES-2016-151 10-14 July 2016, Vienna, Austria.
Aryal, K. (2020). TU teachers feel insecure. https://risingnepaldaily.com/opinion/tu-teachers-feel-insecure
Bain, K. (2004). What the best college teachers do? Harvard University Press.
Besosa, M. (2007). Golden state solidarity. Academe, 93(3), 40-44.
Bhattrai, K. P. (2014). Higher education in Nepal: Truth and challenges. NCWA Magazine. Retrieved from http://civilinitiative.org/254/#sthash.0OTSY4oe.dpuf.
Bland, C. J., & Risbey, K. R. (2006). Faculty development programs. Effective Practices for Academic Leaders, 1(7), 1-16.
Bolden, R., J. & Gosling, A. O'Brien, K. Peters, M. Ryan. & A. Haslam. (2012). Academic leadership: Changing conceptions, identities and experiences in UK higher education, research and development series. Summary Report to the Leadership Foundation for Higher Education. Leadership Foundation for Higher Education.
Bronte, C. (2021). The professor. Kindle Edition.
Carrell, S. E., & West, J. E. (2010). Does professor quality matter? Evidence from random assignment of students to professors. Journal of Political Economy, 118(3), 409-432. https://doi.org/10.1086/653808.
Cather, W. (1925). The professor's house. Alfred Knopf.
Clasquin-Johnson, M. (2014). What do you profess, professor? A few thoughts on professors past, present and future. An Inaugural Lecture. Department of Religious Studies and Arabic, University of South Africa.
Dahal, A. (2020). Erosion of Professors' prestige. Republica Daily. Views. 2nd February 2020.
Dahal, G. (2017). Democratic practice and good governance in Nepal. Journal of Political Science, XVII, 18-35.
Dangol, N., Milan Dharel, S. R., & Kedar M. (2013). Politics in schools in Nepal. Loo Niva Child Concern Group.
Dharel, M R. (2012). Just not adequate (Analysis of Budget Allocation for Education Sector 2068/69. CWISH, Nepal.
Evans, L. (2015). A changing role for university professors? Professorial academic leadership as it is perceived by 'the led'. British Educational Research Journal, 41(4), 666-685. https://doi.org/10.1002/berj.3163
Evans, L. (2014). "What Academics Want from their Professors: Findings from a study of professorial academic leadership in the UK. In W. Cummings, C. Musselin and U. Teichler (Eds.). Recruiting and managing the academic profession. Dordrecht: Springer.
Fairbairn, E. (2014). What would a sustainable university look like? Retrieved from http://www.universityaffairs.ca/opinion/in-my-opinion/sustainable-university-looklike/
Fanghanel, J. (2012). Being an academic. Routledge.
Figlio, D. N., Morton O. S, & Kevin, B. S. (2015). Are tenure track professors better teachers? Review of Economics and Statistics, 97 (4), 715–24. https://doi.org/10.1162/REST_a_00529
Gavriluta, A.F., & Lotos, C.V. (2018). Good governance and the rule of law: Major pillars of economic efficiency. Journal of Public Administration, Finance and Law, 13, 123-133.
Goodall, A. (2013). Top 20 ways to improve your world university ranking. Retrieved from https://www.timeshighereducation.com/features/top-20-ways-to-improve-your-worlduniversity-ranking/410392.article
Gross, N., & Simmons, S. (2014). Professors and their politics. USA: John Hopkins University Press.
Harper, D. (2007). Professor". Online Etymology Dictionary. Retrieved 28 July 2007.
Heesen, Remco. (2017). Academic superstars: Competent or lucky? Synthese 194, 4499–4518. https://doi.org/10.1007/s11229-016-1146-5
Hemsley-Brown, J., & Oplatka, I. (2006). Universities in a competitive global marketplace: Systematic review of the literature on higher education marketing. International Journal of Public Sector Management, 19(4), 316-338.
Hoskins, K. (2012). Women and success: Professors in the UK academy, Stoke-on-Trent. Trentham Books
Khanal, B. (2018). Legal reform via reception of law (1st ed). Bhrikuti Academic Publications.
Khaniya, T. R. (2007). New horizons in education in Nepal. Kathmandu: Kishor Kaniya Office Support Service Center Chhapakhana P. Ltd.
Lamichhane, B. P. (2021). Good Governance in Nepal: Legal Provisions and Judicial Praxis. Journal of Political Science, 21, 19-30. https://doi.org/10.3126/jps.v21i0.35260
Ma, Li. (2021). Professors and academic superstars. Me too and Cyber Activism in China. London: Routledge.
Macfarlane, B. (2012). Intellectual leadership in higher education: Renewing the role of the university professor. Routledge/SRHE.
Malik, Khalid Umar. (2021). Professors turn protesters. https://www.bignewsnetwork.com/news/271840577/professors-turn-protesters-demand-nepal-university-honor-commitment
Manandhar, M. D. (2011). Re-defending higher education. Republica National Daily. Retrieved from http://www.educatenepal.com/article_archive/display/redefininghigher-education-in-nepalin Nepal.
Mewcha, M. A., & Ayele, A. F. (2015). Assessing teachers' perception on integrating ICT in teaching-learning process: The case of Adwa College. Journal of Education and Practice, 6(4), 114-124.
Nepal Education in Figure. (2015). Kathmandu, Nepal: Ministry of Education.
Neena, A. (2015). Role of teachers in nation-building. Journal of Information, Knowledge and Research in Humanities and Social, 0975 – 6701.
Neumann, A. (2006). Professing passion: Emotion in the scholarship of professors at research universities. American Educational Research Journal, 43(3), 381-424.
Petochi, M. (2012). What will the university of the future look like? World Economic Forum. Retrieved from http://www.weforum.org/agenda/2012/06/what-will-the-successful-universityof-the-future-look-like/
Protocol and Consular Handbook. (2018). Nepal: Ministry of Foreign Affairs.
Rahman, M.L. (2016). Governance and good governance: A Theoretical Framework. Public Policy and Administration Research, 6. P+ 40-50.
Rai, V. (2019). Rethinking good governance holding to account India's public institutions. Rupa Publications India Pvt. Ltd.
Sangroula, Y. (2020). Concept of rule of law, human rights, good governance: Mutually reinforcing concepts. http://yubarajsangroula.com.np/assets/uploads/a629a-rule-of-law-andgood-governance.pdf.
Sangroula, Y. (2007). Sorry state of universities: Translated for Biswabidhyalayko Durgati, Nagarik Daily. Views. Kathmandu. Republica Media House Private Limited.
Shrestha, A. B. (2010). The three Rs and beyond: Education in Nepal. from http://www.articlesbase.
Simkhada, P., & van Teijlingen, E. (2010). Higher education in Nepal: Several challenges ahead. Diaspora, 3(1), 44-47.
Siyum, B. A., & Gebremedhin, M. A. (2015). Teachers in Politics: Impact of Political Party Membership on Teachers' Freedom and Stability. The Case of Nigste-Saba High School, Adwa, Tigray, Ethiopia. Journal of Education and Practice, 6(13), 223-235. https://eric.ed.gov/?id=EJ1080520
Stiglitz, J. E. (2020). Rewriting the rules of the European economy. Foundation for European Progressive Studies.
Thomas, P. (2013). Politics and education, don't mix. The Atlantic. https://www.theatlantic.com/national/archive/2012/04/politics-and-education-dont-mix/256303/ Retrieved 30th November 2021.
Thuraisingham, B. (2016). Should professors be given more respect in a university? https://personal.utdallas.edu/~bxt043000/Motivational-Articles/Professor-given-more-respect.pdf Retrieved, 1st December, 2021.
Tribhuvan University part-time teachers launch fresh protests. (2021). https://english.onlinekhabar.com/tribhuvan-university-part-time-teachers.html
Tuladhar, G. (2012). Status of education in Nepal and development plan. A blueprint for respect: Recognizing educational success, professional excellence and collaborative teaching. US Department of Education.
White, G. (2012). Can political interference ever end? School Leadership Today, 3 (45). 34-42.
Wicklund, R. A., & Pantaleo, G. (2012). The role of the professor. Psicologia sociale, 7(3), 355-376.William, S. (2021). My professor: A Nora Heat novella. Platinum Queen Places.
Yakoboski, P. J. (2007). Do great minds think alike? Faculty perspectives on career and retirement. TIAA-CREF Institute.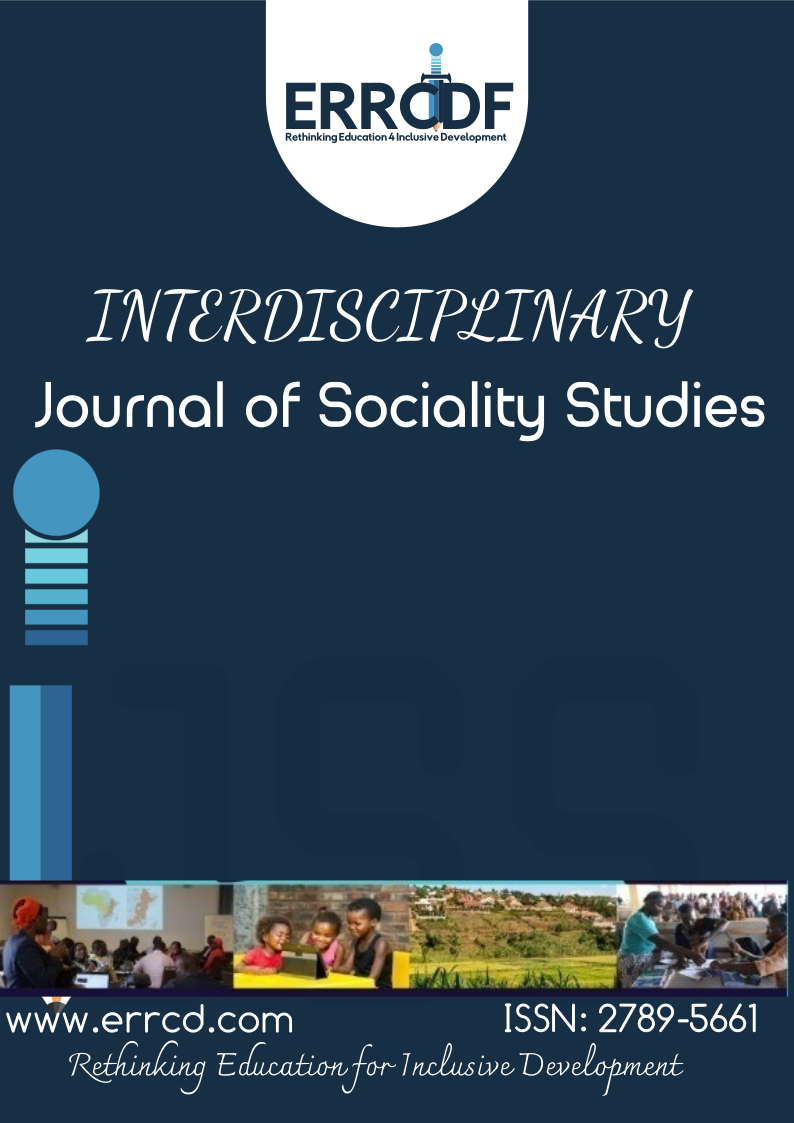 How to Cite
Dahal, A. (2022). Assessing Professors' Prestige, Reasons behind Declining Dignity: A Special Review of Nepalese Context . Interdisciplinary Journal of Sociality Studies, 2, 17-25. https://doi.org/10.38140/ijss-2022.vol2.02
Section
Sociality Articles
Copyright (c) 2022 Atindra Dahal
This work is licensed under a Creative Commons Attribution-NonCommercial-NoDerivatives 4.0 International License.
The articles published by IJSS are licensed under a Creative Commons Attribution-NonCommercial-NoDerivatives licence which permits non-commercial re-use of an open-access article, as long as the original author and source are properly attributed, and provided the article is not modified or altered.