Complexities of Biblical anthropologies (as Views-of-Humanity) in an e-Age
Christo Lombaard

University of South Africa
Keywords:
Biblical anthropology, Electronic communication, Technology, 'singularity'
Abstract
In hierdie bydrae word Bybelse antropologieë en die geïmpliseerde antropologie in sommige uitdrukkings van die tegnologiese samelewing tans in verband met mekaar gestel. Deur voort te bou op vroeëre navorsing deur die outeur in beide die Bybelwetenskappe en die Kommunikasiekunde, word hier dié twee dissiplines in verdere interaksie met mekaar gebring. Sodoende word 'n oorwoë breëre verstaansraamwerk daargestel vir die beoordeling van, as konkrete toepassingsvoorbeeld, 'n onlangse geval waaroor in die nuusmedia berig is, waarin die Skrif nie net metafories 'beliggaming' gevind het nie. 'n Kritiese ingestelheid beteken dat nóg die miskenning van die diversiteit in Bybelse mensbeskouings nóg 'n eensydige afwysing van nuwe tegnologie sal deug. 'n Ingeligte breëre verstaansraamwerk help dat, eerder as om met nuwere kommunikasie-tegnologiese ontwikkelinge op 'n voorskriftelike manier om te gaan, Bybelteks en moderne leefwêreld diskursief met mekaar in verbinding gestel kan word. Sodoende word die moontlikhede van Skrifrelevansie verbreed.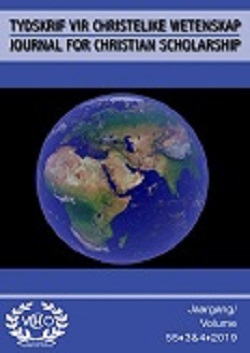 How to Cite
Lombaard, C. (2019). Complexities of Biblical anthropologies (as Views-of-Humanity) in an e-Age. Tydskrif Vir Christelike Wetenskap | Journal for Christian Scholarship, 55(4), 213-238. Retrieved from http://pubs.ufs.ac.za/index.php/tcw/article/view/480
Section
Artikels | Articles
In Terms of the provisions in the Copyright Act, 98 of 1987, as amended, the copyright of author(s) in regard to articles submitted to and published in the Journal for Christian Scholarship is protected. The Vereniging vir Christelike Hoër Onderwys (VCHO) posesses the vested rights (copyright) in regard to published issues of the journal.
Die outeursreg (kopiereg) van outers ten opsigte van voorgelegde artikels aan en gepubliseerde artikels in die Tydskrif vir Christelike Wetenskap word beskerm, ingevolge die bepalings van die Wet op Outeursreg, 98 van 1987, soos gewysig. Die Vereniging vir Christelike Hoër Onderwys (VCHO) beskik oor die gevestigde regte (outeursreg) ten opsigte van gepubliseerde uitgawes van die tydskrif.