Amelioration of family dynam- ics with the focus on fatherhood and the role and influence of the father-figure through the LIFE- PLAN® intervention programme: A rural impact assessment
Abstract
Fatherhood changed over time, and as a result, most families are struggling with serious problems, consequences and challenges in their respective communities. One of the serious problems in family life presently, is precisely the fatherhood issue. Families are redefined and most fathers find themselves in a serious dilemma. Often when this reconceptualising occurred, the father is not even present. This dilemma has devastated consequences because as the man goes, so goes the family, society and probably the whole world due to fatherhood. According to statistics is father absenteeism one of the main causes of quality of life, broken and destroyed families. Quality of life is often affected by father absenteeism and family violence. Therefore, families are fading away, and, with it, we are losing the purpose and plan of God for families and specifically for the father. The father absenteeism dilemma is facing most of our communities in rural and urban areas, and the implication is that the divine assessment of man's fundamental problem of fathers who do not fulfil their role as a father- figure. Hence, the key to the restoration of a sane and healthy family and society is the salvaging of the male through the LIFEPLAN® intervention programme from a Biblical perspective. It is proved through research that LIFEPLAN® did not only addressed a tremendous gap in the lives of families but also a significant strength for fathers to contribute in their own homes and communities pertaining father involvement. Therefore, its main aim is to improve the life of families and address father absenteeism. The programme follows a clear path of core facilitating exercises and activities that build knowledge, promote interpersonal skills and trust through contact and sharing, build thinking and decision-making, coping skills, build motivation and commitment to action pertaining family matters.
Vaderskap het mettertyd verander en gevolglik ervaar die meeste gesinne ernstige probleme, gevolge en uitdagings in hul onderskeie gemeenskappe. Een van die ernstige situasies in die gesinslewe is die probleem van vaderskap. Gesinne word herdefinieer en die meeste vaders bevind hulle in ?n ernstige krisis. Dikwels word die vader nie eens in ?n definisie genoem nie.Hierdie kwessie het verwoestende gevolge, want soos wat vaderskap agteruitgaan, so gaan die gesin, die samelewing en waarskynlik die hele we?reld agteruit. Die dilemma van vaderafwesigheid staar die meeste gemeenskappe in landelike en stedelike gebiede in die gesig. Volgens statistieke is vaderafwesigheid een van die hoofoorsake van ?n lae lewensgehalte, gesinsgeweld, gebroke en vernietigde gesinne. Families verloor die doel en plan van God vir gesinne en spesifiek vir die vader. Die oorsaak van die probleem is vaders wat nie die rol van die vaderfiguur vervul nie. Daarom is die oplossing vir ?n gesonde familie en samelewing die restourasie van die man deur die LIFEPLAN®-intervensieprogram vanuit ?n Bybelse perspektief. Navorsing het bewys dat die LIFEPLAN® program nie net moontlikhede bied om ?n groot leemte in die lewens van gesinne te vul nie, maar ook betekenisvolle advies en kennis bied vir vaders om ?n bydrae in hul eie huise en gemeenskappe te lewer. Die hoofdoel is daarom om die lewens van gesinne te verbeter en vaderafwesigheid te herstel. Die program volg ?n duidelike pad van fasilitering deur oefeninge en aktiwiteite wat kennis uitbou, interpersoonlike vaardighede bevorder en vertroue skep. Dit geskied deur kontak en deelname, opbou van denke en besluitneming, die hantering van vaardighede, motivering en toewyding om op te tree in gesinsaangeleenthede.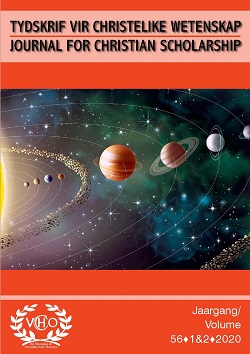 How to Cite
Freeks, F. E. . (2020). Amelioration of family dynam- ics with the focus on fatherhood and the role and influence of the father-figure through the LIFE- PLAN® intervention programme: A rural impact assessment. Tydskrif Vir Christelike Wetenskap | Journal for Christian Scholarship, 56(1&2), 115-136. Retrieved from https://pubs.ufs.ac.za/index.php/tcw/article/view/519
Section
Artikels | Articles
In Terms of the provisions in the Copyright Act, 98 of 1987, as amended, the copyright of author(s) in regard to articles submitted to and published in the Journal for Christian Scholarship is protected. The Vereniging vir Christelike Hoër Onderwys (VCHO) posesses the vested rights (copyright) in regard to published issues of the journal.
Die outeursreg (kopiereg) van outers ten opsigte van voorgelegde artikels aan en gepubliseerde artikels in die Tydskrif vir Christelike Wetenskap word beskerm, ingevolge die bepalings van die Wet op Outeursreg, 98 van 1987, soos gewysig. Die Vereniging vir Christelike Hoër Onderwys (VCHO) beskik oor die gevestigde regte (outeursreg) ten opsigte van gepubliseerde uitgawes van die tydskrif.