The contours of sound leadership according to an integral Christian worldview
Abstract
Drie vorige artikels in hierdie reeks het gehandel oor probleme in verband met swak en selfs slegte leierskap, veral op ons Afrika-kontinent. Dit was nodig om deur te dring tot die dieperliggende tradisionele, Westerse en Christelike wortels van die situasie, want so ? diagnose voorkom dat ? mens slegs die simptome probeer behandel van die onaanvaarbare gedrag van baie, selfs Christelike leiers vandag.
Hierdie laaste bydrae bied ? positiewe terapie vanuit ? integrale, holistiese of omvattende perspektief. As inleiding bied dit eers ? kort omskrywing van die buitelyne van so ? lewensvisie, terwyl die tweede hoofdeel die implikasies daarvan vir gesonde leierskap aantoon.
Eerstens bied ? strukturele analise van leierskap belangrike insigte wat, saamgevat, beteken dat ? integrale leier iemand is wat (1) met toepaslike gawes, (2) deur God geroep is om (3) met gesag en insig asook (4) die nodige beperkte mag (5) ? amp moet vervul (6) met die oog op diens op ? bepaalde lewensterrein, sodat (7) geregtigheid daar kan geskied, terwyl so ? leier (8) teenoor diegene oor wie hy gesag uitoefen en finalitêr aan God, verantwoording verskuldig is oor hoe hy sy roeping as leier uitvoer.
Tweedens dui die direksionele of normatiewe analise aan dat vir goeie leierskap nie net morele of etiese waardes geld nie, maar ? hele spektrum daarvan nodig is om bestaande leierskapspatrone te verander. God se fundamentele liefdesgebod moet in die vorm van relevante, hedendaagse norme toegepas word om leierskap op alle lewensterreine positief te rig.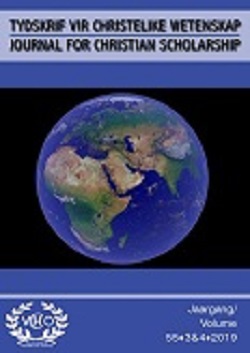 How to Cite
Van der Walt, B. J. (2019). The contours of sound leadership according to an integral Christian worldview. Tydskrif Vir Christelike Wetenskap | Journal for Christian Scholarship, 55(4), 185-212. Retrieved from https://pubs.ufs.ac.za/index.php/tcw/article/view/479
Section
Artikels | Articles
In Terms of the provisions in the Copyright Act, 98 of 1987, as amended, the copyright of author(s) in regard to articles submitted to and published in the Journal for Christian Scholarship is protected. The Vereniging vir Christelike Hoër Onderwys (VCHO) posesses the vested rights (copyright) in regard to published issues of the journal.
Die outeursreg (kopiereg) van outers ten opsigte van voorgelegde artikels aan en gepubliseerde artikels in die Tydskrif vir Christelike Wetenskap word beskerm, ingevolge die bepalings van die Wet op Outeursreg, 98 van 1987, soos gewysig. Die Vereniging vir Christelike Hoër Onderwys (VCHO) beskik oor die gevestigde regte (outeursreg) ten opsigte van gepubliseerde uitgawes van die tydskrif.