Die konfigurasie van politieke enkapsulêre verhoudinge en publieke kompetensieperke in die Vindiciae Contra Tyrannos: Middeleeuse aanknopingspunte vir die vroeë Reformatoriese politieke filosofie
Abstract
The configuration of political encapsulating relationships and limits to public competencies in the Vindiciae Contra Tyrannos: Medieval points of contact for the early Reformational political philosophy
The author of the Vindiciae Contra Tyrannos, a sixteenth century political tract, takes as his point of departure the Aristotelian social philosophy by providing for relationships of encapsulation and wholes and parts in political society. As a consequence his work reflects the same theoretical limitations as those of the Greek and Medieval authors. His inability to distinguish the political community from the private law entity established by the social contract, leaves the subjects in political society without effective protection regarding both their private law liberties and their political rights. The absence of a penetrating structural analysis of the various social entities in society and their diverse structural aims and functions effectively prevented the emergence of a nuanced political philosophy in early Reformational circles and in effect gave stimilus to humanistic views of the sovereignty of the people.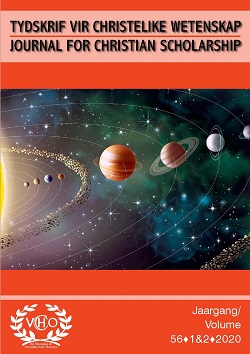 How to Cite
Raath, A. . (2020). Die konfigurasie van politieke enkapsulêre verhoudinge en publieke kompetensieperke in die Vindiciae Contra Tyrannos: Middeleeuse aanknopingspunte vir die vroeë Reformatoriese politieke filosofie. Tydskrif Vir Christelike Wetenskap | Journal for Christian Scholarship, 56(1&2), 51-80. Retrieved from https://pubs.ufs.ac.za/index.php/tcw/article/view/517
Section
Artikels | Articles
In Terms of the provisions in the Copyright Act, 98 of 1987, as amended, the copyright of author(s) in regard to articles submitted to and published in the Journal for Christian Scholarship is protected. The Vereniging vir Christelike Hoër Onderwys (VCHO) posesses the vested rights (copyright) in regard to published issues of the journal.
Die outeursreg (kopiereg) van outers ten opsigte van voorgelegde artikels aan en gepubliseerde artikels in die Tydskrif vir Christelike Wetenskap word beskerm, ingevolge die bepalings van die Wet op Outeursreg, 98 van 1987, soos gewysig. Die Vereniging vir Christelike Hoër Onderwys (VCHO) beskik oor die gevestigde regte (outeursreg) ten opsigte van gepubliseerde uitgawes van die tydskrif.